The Richard M. Brodsky Foundation is committed to not only supporting research endeavors, global AIDS project, and orphans in sun-Saharan Africa through its annual World AIDS Marathon, but has a strong commitment to living aid organizations as well, based on Brodsky's belief that there are many facets involved in the HIV and cancer illness that need to be addressed. The annual 5K Event in Seaford, North Woodmere or more recently Baldwin, Long Island specifically seeks to help people living with HIV and / or cancer on Long Island. The Foundation also holds true to the fact that we are aware of other illnesses and believe that only when people from different genres of life come together, we can really paint to a canvas that will evoke an image of hope for a brighter tomorrow. As an HIV-positive, brain cancer survivor and marathon runner, living on Long Island, Brodsky believes that local communities can and must come together to be supportive of people living with life-threatening illnesses. It seems reasonable that Brodsky would select his home county, Nassau, for its first 5K AIDS / Cancer Run / Walk, but why stop the race to save lives here on Long Island? If the event proves to be successful, Brodsky would like to have a few of these events in different American cities every year.
LIVING AID FOR PEOPLE WHO ARE HIV-POSITIVE OR CANCER SURVIVORS:
For the groups noted below plus 3 groups noted in Miscellaneous,
The Richard M. Brodsky Foundation seeks to raise money and collect items such as shampoo, laundry detergent, dish soap, deodorant, cologne or perfume, tissues, toothbrushes, toothpaste, band-aids, coffee cups, soap, sunscreen, lipstick, and any free samples that people and corporations will donate. For more information about making product donations, please visit the link, Product Donation.

Wouldn't it be great to leave an AIDS support meeting or a visit to a Cancer Center with a gift basket filled with some or most of the items noted in the above paragraph?
The Center for AIDS Research and Treatment is the largest New York State Designated AIDS Center on Long Island, providing primary care to over 1,700 HIV-infected individuals. Here, a Board Certified Infectious Disease specialist and nurse-case manager is assigned to each patient, consistently rendering the highest possible quality of care. Clinics are held Monday through Friday. Round the clock service is provided for both emergency room visits and in-patient management of more severe disease. Obstetrical services allow infected mothers to deliver healthy virus-free children; surgical services provide comprehensive surgical care. Advanced dental care is also available. Our laboratory is equipped with the most modern technologies, supporting patients back to health, while active clinical trials provide the newest medicines, vaccines and state of the art treatments. Extensive psychosocial and adherence programs supplement primary care to help patients achieve emotional control over their disease while assuring proper use of medications. The ability to achieve complete suppression of HIV has dramatically changed the outcome of this once fatal infection. Patients participating in our comprehensive AIDS program can be expected to lead full, productive and healthy lives.The Center for AIDS Research and Treatment is dedicated to providing the highest standards of healthcare to you, our patient. (above text quoted from Center for AIDS Research and Treatment website)

Richard Brodsky was diagnosed HIV-positive in 1997 and with terminal brain cancer in 2002. Says Brodsky, "Running has saved my life and so has the camaraderie of runners who have provided so much encouragement. While it is costly to stage a running Event, a free run/walk proved to be too costly. Thank you to everyone who serves as a volunteer, participant or sponsor. Our last FREE Event was held hours before Hurricane Sandy wreaked havoc on Long Island. Everyone won a prize and received $45 in toiletry/gift items. If you were living with HIV or cancer, these items were for you. If you were healthy, we asked that you give these items to someone living with HIV or cancer. We served plenty of food and the Town of Hempstead did everything they could to make the Event a success. Since the Event was free, no money was raised but these Events are a great opportunity to collect toys for local hospitals as well as toiletry/gift items.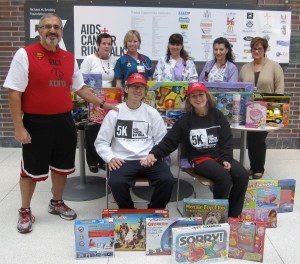 $3,500 in toys was donated to South Nassau Communities Hospital in conjunction with the 3rd annual FREE Run/Walk for HIVers, Cancer Survivors & Friends on October 30, 2011 at Oceanside Park. Seated in the photo left to right is Richard & Jodi Brodsky. Standing is Dr. Richard Sartori and hospital staff.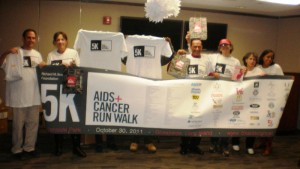 pictured above: 2011 Christmas party for staff and patients of Center of AIDS Research & Treatment at North Shore University Hospital. There were 1,100 patients back then  including me, Richard Brodsky, yet only 50 people attended the party where delicious food was served and a DJ provided entertainment. The stigma of AIDS is still here as evidenced by the patients above who did not want their faces shown. Tear down the wall of t-shirts so all people living with HIV can be seen and heard. I say this firsthand as I am surviving HIV and brain cancer. The common thought out there is you have to be stupid to get HIV while brain cancer is a very respectable disease. If Ted Kennedy, one of the most brilliant politicians who was loved in a bipartisan way by both Democrats and Republicans, can get brain cancer, then it follows that brain cancer is a very respectable disease. We need to treat people with all illnesses with respect and dignity.
North Shore University Hospital     (donates toiletry/gift items only to people living with HIV or cancer at North Shore University Hospital, Don Monti Cancer Center +
–  Center of AIDS Research & Treatment at North Shore University Hospital, Circulo de la Hispanidad, Client Advisoy Board at Center of AIDS research & Treatment at North Shore University Hospital, Congregation Sons of Israel, Five Towns Community Center + its AIDS Service Program, Hispanic Counseling Center, JCC of the Five Towns Greater Food Pantry, Living Hope Fellowship of Massapequa, Long Island Association of AIDS Coalition, Long Island Breast Cancer Action Coalition, Long Island Minority AIDS Coalition, St. Joachim's, Thursday's Child, & participants of the 5K AIDS Cancer Run Walk.
North Shore University Hospital in Manhasset is a tertiary care facility that is one of the cornerstones of the health system, as well as an academic campus for the New York University School of Medicine. It was named the nation's top hospital by AARP's Modern Maturity magazine. The hospital has 731 beds and a staff of approximately 2,700 specialist and subspecialist physicians. It offers the most advanced care in all medical specialties, including open-heart surgery, neurosurgery, urology, and maternal-fetal medicine. The hospital also excels in intensive care for medical, surgical, newborn, and pediatric patients.
The Don Monti Cancer Center cares for more cancer patients than all other Long Island hospitals combined. Specialties include bone marrow transplants, geriatric oncology, breast cancer treatment, and gynecological surgery. (above text quoted from the North Shore University Hospital website)
TOYS FOR CHILDREN LIVING WITH CANCER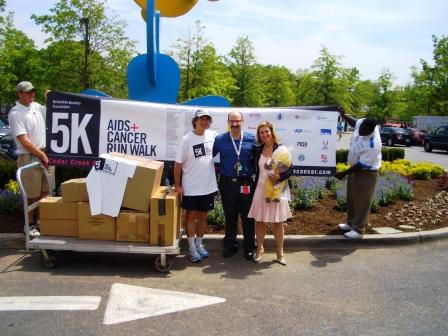 Michael Swensen (above left, CENTER), CCLS, Donations Coordinator for The steven and alexandra cohen children's medical center of new york, accepting toys from Richard AND JODI Brodsky in June, 2008.
The Richard M. Brodsky Foundation seeks to collect toys for in-patient children at the Pediatric Hematology Unit. For more information about the annual toy donation drive, please contact Richard Brodsky. (the following text is taken from the Cohen Children's Medical Center FACEBOOK page.

Welcome to Steven and Alexandra Cohen Children's Medical Center of New York, where we are dedicated to providing the highest levels of care in meeting the special needs of children, from premature babies to adolescents. The specialists in our national and international programs cover an entire range of specialties including; Cardiology, Cardiothoracic Surgery, Minimally Invasive Surgery, Lung Rescue, Stem Cell (Bone Marrow) Transplantation .
At Cohen Children's Medical Center, we've created a warm and bright environment to make your child's stay with us as pleasant and comfortable as possible. Our 157-bed hospital opened in 1983 as the New York metropolitan area's only hospital designed exclusively for children. Today we are the largest provider of pediatric health services in New York State. We serve 1.8 million children in Brooklyn, Queens, Nassau and Suffolk counties.
State-of-the-art care for children's medical, surgical, psychiatric and dental needs are provided in both inpatient and outpatient settings. Outpatient services are available at Cohen Children's main campus in New Hyde Park and at regional consultation centers in Commack, Hewlett, Bensonhurst, Williamsburg and Flushing.
We know how important it is to choose the right care for your child, and we understand that you want to be involved in your child's care. We're committed to you and your family, and we're here to answer your questions.
Toys are also donated to Five Towns Early Learning Center, South Nassau Communities Hospital, St. John's Episcopal Hosptial, Stony Brook Children's Hospital, Winthrop Pediatric Associates, Wyandanch High School
MISCELLANEOUS:
100% of the net proceeds from the annual 5K Event and the October 5K FREE running EVENT will remain in Long Island and will go towards helping people living with HIV and cancer. The proceeds will go towards the Center for AIDS Research & Treatment (CART), The Steven & Alexandra Cohen Children's Medical Center of New York, Ronald McDonald House, Five Towns Community AIDS Service Program, The Long Island Breast Cancer Action Coalition, and the Richard M. Brodsky Foundation. The money donated to CART will be used to cover the costs for transportation for medical services for people living with HIV as well as social gatherings. The money donated to Cohen Children's Medical Center of New York will go towards improving the quality of life for children living with pediatric cancer who are are being treated at the hospital. The money donated to the Brodsky Foundation will go towards improving the lives of people living with HIV and cancer, (no charge for people living with HIV and cancer if I am contacted in advance) for its upcoming 5K AIDS Cancer Run Run Walk in June as well as any other FREE Events for people living with HIV and cancer.