A Tribute to the Pop Music Festivals of the late 60s / early 70s (the next benefit concert will be held at Backstage Nite Club, Woodmere, NY, (2017, date to be determined)

to benefit the Richard M. Brodsky Foundation
For a $10 donation at the door, the first 100 guests and all 50+ musicians will receive $30 in gift certificates from restaurants on Long Island including $5 from Runyon's of Seaford; $5 from the Lido Kosher Deli, A Whale's Tale, The Cabana (all from Long Beach) + $10 from Giardinetto Italiano Ristorante of Inwood.
RETROFEST 40?, PAYING TRIBUTE TO  THE POP FESTIVALS
OF THE LATE 60s / EARLY 70s
TO BENEFIT THE RICHARD M. BRODKSY FOUNDATION.
Organized by Allan Spielman of Retrofestivals.Org, Retrofest 34 celebrated the 46th anniversary of the famous 1967 concert that was known as the "Father of the Pop Festivals" and the blueprint for Woodstock 1969. It had a musical lineup of  The In Crowd,  Cyndi Hazel and Glen Denton, BigDaddy & the Bulldogs, King Penguin, the Septemberists,   Retro69, Half Past Dead , and Grape Jam 
to sample the original Monterey Pop festival concert experience. The show was held on Saturday, April 20 from 8:00pm – 2:00am at the Blue Parrot 5460 Merrick Road in Massapequa, NY.
Every dollar raised went directly to the Richard M. Brodsky Foundation. After midnight the entry fee was $5. Plenty of raffles plus a 50/50 raffle based on raffle tickets sold. You needed to be present to win the 50/50 raffle.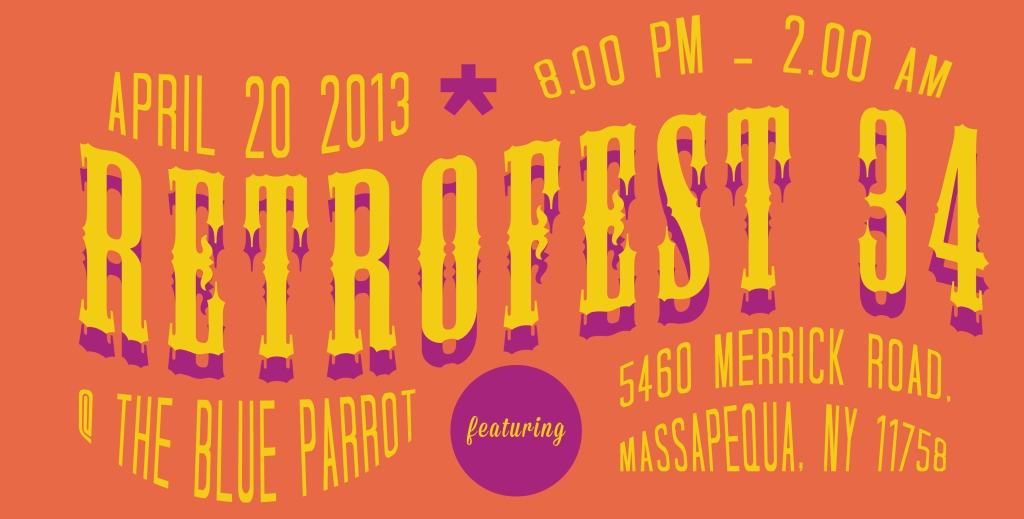 RETROFEST is an ongoing grassroots effort that recreates famous festivals of the late 60s through early 70s.Whenever possible, the concert will follow the order and instrumentation from the original experience, including covers of the The Association, Lou Rawls, Johnny Rivers, The Animals, Simon and Garfunkel, Canned Heat, Big Brother and the Holding Company, Country Joe and the Fish, Al Kooper, The Butterfield Blues Band, The Electric Flag, Quicksilver Messenger Service, Steve Miller Band, Moby Grape, The Byrds, Laura Nyro, Jefferson Airplane,Booker T. & the MGs, Otis Redding, The Blues Project, Buffalo Springfield, The Who , The Grateful Dead, The Jimi Hendrix, and The Mamas & the Papas.
SPONSORSHIP OPPORTUNITIES
(Allan Spielman was the emcee for the night and we  announced our sponsors multiple times at the Events. For all $100+ donors or raffle prize donors exceeding $100+, your generosity will be noted on FACEBOOK, websites, and news releases. You may also bring a small banner, business cards, or other promotional material to the Event and this will be displayed.
– Title Sponsor, $350, cost for speaker sound system (same benefits as $100 sponsor plus your logo was used on all local Brodsky Foundation Events for 2013). Thank you
South Shore Honda
for being the Title Sponsor in 2013 and 2014.
– $100 or equal value for raffle prizes, i.e. concert tickets, sporting Events, etc.Your name will also be noted on the Event t-shirt for the upcoming 5K AIDS Cancer Run Walk, Baldwin Park.
– smaller donations are very much appreciated as well.
DONATIONS and RAFFLE PRIZES
may be mailed to the Richard M. Brodsky Foundation, 1247 Mara Court, Atlantic Beach, NY 11509.
THANK YOU to our sponsors, Retrofest musicians, volunteers and Backstage Nite Club of Woodmere.